In an effort to improve my mental health, I've been working to improve my physical health in hopes that the latter will help the former. I've been running, I've been working out, and I've been eating better. I'm not always awesome at doing all three, as I'm super-awesome at being self-sabotaging and self-destructive. I'm trying to plan ahead more, and that is helping.
I'm taking a break from eating "clean" while I'm away, because I think the stress of trying to eat clean while traveling will be totally missing the whole point of why I'm choosing to eat this way.
I don't know if you've ever tried to search for "clean" recipes, but they seem to all have funny ingredients. Things I've never heard of. It's annoying. I'm trying to find simpler recipes, but I'm also creating some of my own.
I find that breakfast is the hardest meal for me, especially since I'm not huge on eggs. I mean, I'll eat them, but they're not my favourite. So, I made this pancake recipe up this morning. I guess it uses a few not-usually-on-hand ingredients, but they're not hard to find, and they're not that weird. I got the oat flour and agave nectar at Bulk Barn. (I love Bulk Barn.)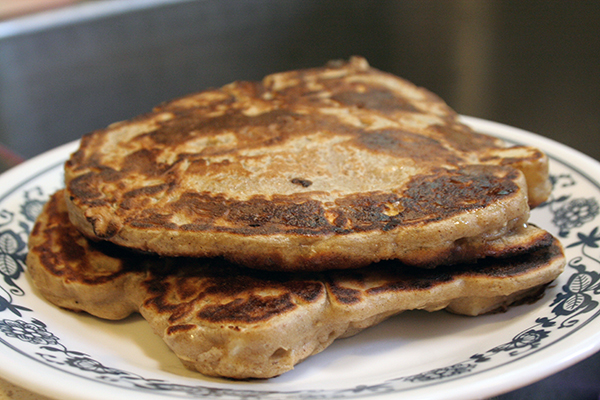 Ingredients:
2/3 cup oat flour
1/3 cup oats
1/2 scoop vanilla whey protein powder (I'm sure you could omit this)
1/2 tsp cinnamon
2 egg whites (1/4 cup)
1/3 cup water
1 tbsp agave nectar
1/2 apple, chopped
Mix everything together, and fry it up. If it seems too thick, just add more water. This recipe makes four small pancakes.
I'm sure it would be just as delicious with applesauce rather than apples, but I didn't have any applesauce and I was too lazy (and hungry) to make some. Also, I like apple chunks.
Nutrition info:
Serving size: 1 pancake
100 calories
1g fat
10mg cholesterol
36mg sodium
15g carbohydrates
2g fibre
5g sugar
7g protein