BABIES! My little turdball buddies bring so much laughter and noise and fun and destruction to my house. (Yesterday alone, while I was making their lunch, they shattered my laptop screen and emptied a package of wipes.)(And in the evening, Preston dumped pop all over himself and the couch.) They love to eat, but sometimes they won't touch anything nutritious. Or, in Preston's case, he'll stuff his mouth much too full and make himself gag. TODDLERS!
Anyway, I found this recipe for toddler muffins and modified it a bit. The boys inhaled them. Safely. Without choking./852 (That last little typo is courtesy of Preston. I WAS GONE FOR 3.2 SECONDS.) These things are packed with veggies and fruit, and the only person (that I know of) who won't eat them is Liliana. Because she doesn't like carrots. OR ANY OTHER FOOD THAT IS NOT BREAD WITH BUTTER. Or cheese and crackers.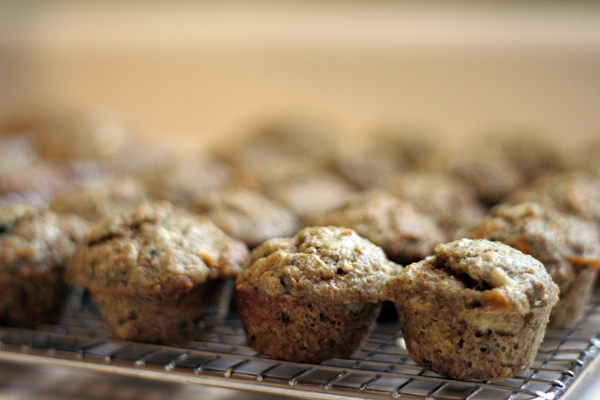 Ingredients:
1/2 cup butter
1/4 cup brown sugar
2 large bananas*
1/2 cup pumpkin (or other squash) purée
2 carrots, grated
2 eggs, beaten
1 cup whole-wheat flour
1/2 cup wheat bran
1 tsp baking soda
1 tsp cinnamon
1/2 tsp salt
Directions:
1. Preheat oven to 375°F (190°C). Grease 24 mini muffin cups (I found it made more, actually, but maybe my muffin cups are mini mini) or 12 standard muffin cups.
2. In a large bowl, cream butter and brown sugar till smooth. Mix in bananas, pumpkin, carrots, and eggs. Stir in flour, bran, baking soda, cinnamon, and salt till just combined. Fill prepared muffin cups.
3. Bake for 15-20 minutes, or till a toothpick inserted into the centre comes out clean. Cool in pans for 10 minutes before removing. Cool completely on a wire rack. Store at room temperature for up to two days. Muffins freeze well.
*You can also substitute 2/3 cup applesauce (like I did the last time I made them because I was out of bananas), but the muffins don't stick together as well. They're delicious, though.