So, in keeping with this whole wanting-to-start-running-again thing, I figured I should start fueling my body with things that aren't Wunderbars and mini marshmallows. *weeps*
Venessa and I were at Costco the other day and I saw a giant bag of broccoli and remembered something about someone on twitter (Bethany, I think) saying that roasted broccoli is pretty much the best thing ever. So, I bought that giant bag of broccoli.
Last summer, at our second-annual week at Lisa's cabin at Shell Lake, Lisa and I ate our weight in roasted veggies, mainly a couple home-grown zucchinis I'd brought with me. Anyway, Lisa introduced me to a very delicious seasoning. Clubhouse Roasted Garlic & Peppers. It changed my life. (Okay, not really, but it was fantastically delicious.)(And Clubhouse in no way asked or paid me to say this.)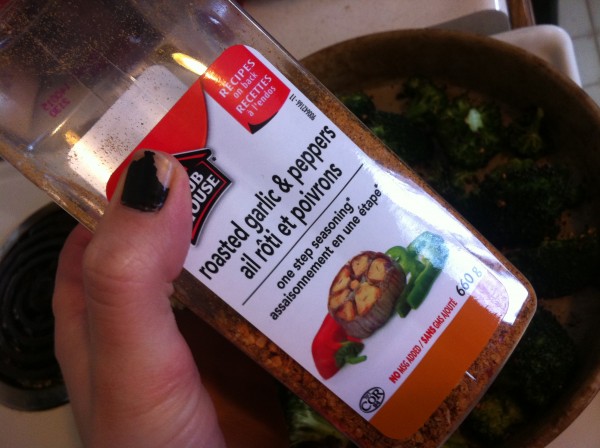 I have one rule for snacks. They have to be easy. Roasted broccoli? Very easy.
1. Dump broccoli in single layer in pan. (I use a clay baker, but you can use any baking pan with a ridge.)
2. Drizzle with olive oil and stir it up a bit.
3. Sprinkle with a generous amount of Roasted Garlic & Peppers seasoning.
4. Bake at 400°F for 10-15 minutes.
Easy peasy.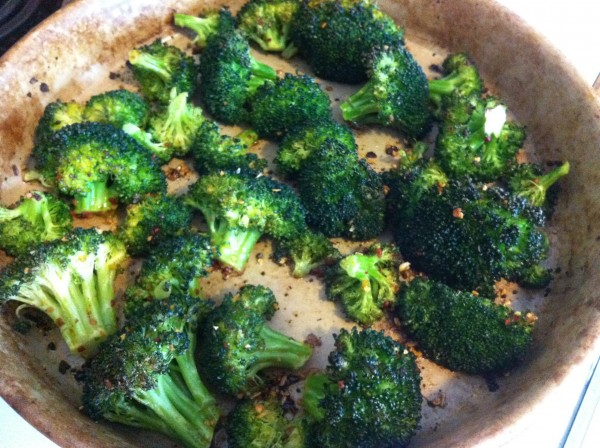 It's a good thing nobody else here is interested in eating this dish, because I usually inhale it in about three minutes.
I wonder what chocolate-covered broccoli would taste like …